Virtual visit to Newbridge Towers Care Home report
We have been unable to undertake Enter and View visits to care homes during the COVID-19 pandemic. Our Executive Board decided that we should undertake a virtual visit to a care home to hear residents lived experience of the pandemic.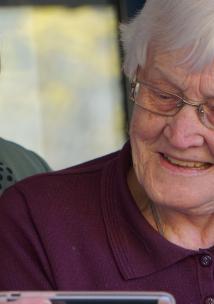 The aim of the virtual visit is to capture residents' lived experience of life in the care home during the COVID -19 lockdown and to look at good practice within the care home.
Key Findings
Two of our volunteers had a one-to-one conversation over Zoom to find out how they had been coping with the current pandemic. It demonstrated good practice being observed in the home, with tailored activities, choice of meals and support with daily needs such as dentistry and haircuts
Two volunteers held a Zoom discussion with four residents, who told us that they found the last lockdown hard. At the beginning of the pandemic last spring, residents were able to use the garden and had garden tea parties and concerts. They were clearly well supported by caring members of staff and there is a positive attitude, with residents and staff looking forward to some normality returning.